Easy Way to Perfect Shape
The "Reintegrate" version of Perfect Shape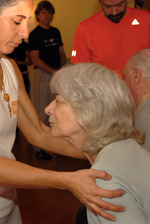 This "reintegrate" version of Perfect Shape is based on the same fundamental principles of Perfect Shape.
Through this method, somehow simplified but at the same time more specific and detailed, Perfect Shape becomes "reintegrate" and particularly indicated to the less young or to those who have to regain strength after physical injury, birth-giving, hospitalization, etc. Nonetheless, this "soft" version, also defined by its author "the simple path towards your perfect shape", maintains the original "core aim" in that it is serious work towards body consciousness and it develops, like Perfect Shape, through twelve lessons which will concentrate on "simple" and "complex" mobility of the vertebral column, the regaining of correct posture, full range of movements by joints as well as muscular strength by each single part of the body.
All this will be accompanied in a synergic way by self-massage practices so that even a body which is not so young or needs regaining wellbeing will gradually be able to express harmonious movements when gesturing and whether holding a static or dynamic posture. The physical exertion of these simple movements does not require the support of gym equipment but just the application of a light resistance enacted by your own muscles in response to the actual movement, together with specific and coordinated breathing exercises (typical aspects of Perfect Shape). This enables the body to regain in a short time a good level of muscle tone and a state of physical, mental, and energetic long lasting wellbeing.
Therefore, Soft Perfect Shape is particularly beneficial to all those people, whether young or not so young, who have never practiced any physical activity or that, for a series of reasons (obesity, surgery, or recent birth-giving, little cardiac problems, etc.), have long abandoned a healthy exercising activity, thus ending up losing that regular dialogue which exists inside everyone with each single part of one's own body. Reintegrate Perfect Shape is the right method for all those who want to improve or learn, slowly but steadily, how to know the main apparatus of our life: our own body.
PERFECT SHAPE MAIN GOAL
Perfect Shape's main goal is to give all those who approach this method the opportunity to reach a perfect shape, not in relation to stereotyped models but in relation to one's own body structure and possibilities. In order to stick to this basic principle and achieve the best possible result it is absolutely necessary that the method adapt to the person and not the contrary. To achieve one's own perfect shape means to look for that psycho-physical balance which satisfies all the needs in everyone's life, to develop a healthy lifestyle which is easy-to-practice on a daily basis, to achieve that vitality which stems from healthy mental habits. It is most important that our modus vivendi brings us back to the very core of our own life, because one's own person is the most essential person each of us truly has and there is no doubt one can be useful to other people if one cannot take proper care of one's own self.
Perfect Shape's perspective is that of one's own physical structure offers the opportunity to overcome many limits and to improve day by day. One does not need any equipment, any particular place or favourable season. Gradual work and respect for the muscle's physiological dynamics will help improve our shape, increase muscular power, and rebalance our static and dynamic posture, all by using only our own strength and last, but not least, will also help improve our body awareness.
HOW THE SECOND LEVEL WAS CREATED AND WHY

Perfect Shape basic method is a system which can be graduated and, therefore, be used by the amateur athlete as well the professional one. It can also be practiced by people who, though not so young, enjoy an overall satisfactory physical condition. The only people who can stumble upon some difficulties in practicing easily Perfect Shape are those who have never practiced any physical activity in their entire life and, once reached an advanced age, present those typical physical rigidities which requires an even more gradual and specific approach.
WHO IS REINTEGRATE PERFECT SHAPE FOR?
The "reintegrate", therefore, represents a method which is particularly indicated for elderly people, ideal for post-traumatic recovery and post-convalescence, rehabilitation or even for people who are obese. It has also proved to be an excellent post-partum activity.
HOW REINTEGRATE PERFECT SHAPE WORKS
When compared to the basic method, which first works to increase mobility of the spine and then concentrate on increasing muscle power, this second method gives special attention to the regaining of all body movements, from the mobility of the spine and major joints to regaining a full joint range of motion. The regaining of strength is much more gradual as it respects the overall limited physical capacity, meaning that it takes longer to regain physical wellbeing because of poor initial conditions. Even when the capacity for body awareness is reduced, Soft Perfect Shape offers the opportunity to regain that essential intimate dialogue. This is why Soft Perfect Shape includes a self-massage system which uses the heat generated by the hands to help perceive every part of one's body and stimulate that self-healing capacity that every one of us has.
Soft Perfect Shape, just like the basic course, consists of twelve lessons, each made of five or more exercises, which allows the individual to work in a specific way according to the different priorities and needs involved. Therefore, lessons will follow an order which traces a "path" on the body: simple mobility, neck, complex mobility, hands, feet, thorax, abdomen, back, hips and gluteus, shoulders and arms.
HOW IT IS APPLIED IN REHABILITATION
Both versions of the method, Basic and Soft, can be used as a rehabilitation program thanks to its gradual approach and to the fact that it respects muscles physiology, thus allowing naturally stress-free, risk-free muscular recovery.
WHICH RESULTS CAN BE ACHIEVED AND HOW LONG IT TAKES
Naturally, the greater the commitment, the better the results. "Commitment" does not refer to muscular effort but rather self-discipline on a daily basis. Both methods can be developed over a period of time of three to six months and later be maintained through specific lessons. Visible results do not stop at the body as life-style also gets involved, so surprising changes like self-esteem and self-confidence appear over a short period of time. Moreover, discipline stops being just a mere imposition to become presence,participation and complicity. Yes! One can be one's own collaborator and I believe this is one of the best personal qualities one could develop!
HOW PERFECT SHAPE CAN STRENGHTEN MENTAL AND PHYSICAL HEALTH
Often we think solutions to our life's problems should always come from the outside, so much so that an elderly person would think that due to age little can be changed. The first big mistake one can make is to think that it is too late to do some good for oneself; as a matter of fact, each of us is and will always be, to the very end, the one and only main actor of his/her own life hence there will always be time to do ourselves some good.
General wellbeing can be regained and maintained day after day. Naturally, physical activity requires practising in order to show its many benefits and today, one of our frantic modern life's main challenges to personal wellbeing concerns with regaining and preserving full care of our mind and body.